Dutch Designers at Atlanta Design Festival
June 1, 2019

-

June 9, 2019
Check out Dutch designers invited to participate in Atlanta Design Festival June 1-9, Southeast's largest design event exclusively to promote bold contemporary and international design! Visit their website for more information
ADF presents newsworthy trends in cutting-edge architecture and design, sustainability, social responsibility, and contemporary culture all around Atlanta. Over nine-days visitors will be able to explore the rich variety of talents being produced today through a range of showroom events, exhibitions, talks, workshops, installations and tours. The ADF has kindly offered our members and "future' members a 50% off the MA! Architecture Tour Atlanta tickets, send us an email at info@naccse.org to get the code!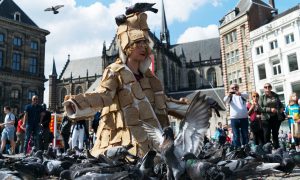 DUTCH DESIGN PROGRAM 1 – 9 JUNE 2019
>
Tuesday, June 4 | 12:00PM- 12:30PM
(link)
Wednesday, June 5 | 12:00PM – 12:30PM pm (
link)
MARTA Metro Chat #metrochat
at Arts Center MARTA Station and another station
Designers: Bouke Bruins and Wouter Corvers
Primary Collaborators: NS (Dutch Railways), MARTA, ATLANTA DESIGN FESTIVAL
Bouke en Wouter will bring an American version of their #railtalk project they developed for the Dutch National Railways. It is all about making public transport more attractive and the travelling and even waiting fun.
>
Talk 4 June | 6:00PM – 8:00PM
(link)
Exhibition Cut the crap
General Assembly in Ponce City Market –  675 Ponce De Leon Ave NE, Atlanta, GA 30308
Designer: Pauline Wiersema
Pauline graduated cum laude from Design Academy Eindhoven last year. As an interdisciplinary designer she questions social issues and develops campaigns in the form of interactive installations and experiences. For Atlanta she redesigned her campaign Cut The Crap, to make it fit to the cultural context of both the USA and the Netherlands. Pauline will be talking about her work and a collaboration she's doing with Ingrid on an intervention in public space: Wishful Mapping
>
Talk 5 June | 5:30PM – 7:30PM
GenslerTalks! + General Assembly Present: How Design Influences Our Everyday
The Plaza at Ponce City Market (BeltLine level)
Dutch Design Week Public Affairs Manager: Ingrid Van der Wacht will join an in-depth panel event on how thoughtful design creates significant experiences where we live, work and play.
>
6-8 June Design Economy Expo
June 6 | 12:00PM – 5:00PM
June 7 | 12:00PM – 5:00PM, Evening Reception, 6:00PM – 10:00PM
June 8 | 9:00AM- 1:00PM
M Rich Center, 115 M.L.K. Jr Dr SW, Atlanta, GA 30303
Designer: Sander Hagelaar
Exhibition of the installation All Falls Down. Sander likes to incorporate elementary materials, such as light and wind, to make the intangible tangible. The light shines in the moving curtains of soap bubble that engage the audiences.
>
Talk 6 June | 6:00PM – 9:00PM
Design Talks: General Assembly in Ponce City Market –  675 Ponce De Leon Ave NE, Atlanta, GA 30308
Dutch Design Week Public Affairs Manager Ingrid van der Wachttalks on the role of design festivals, from a global perspective and zooming in on Dutch Design Week in particular. Followed by a panel discussion.